Service You Deserve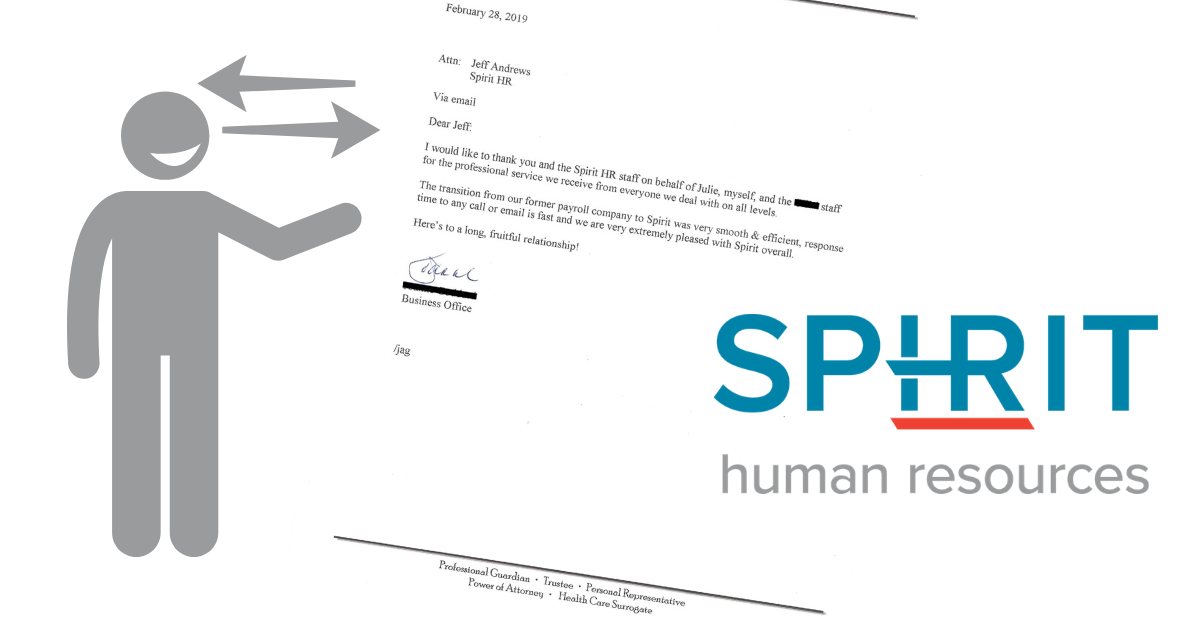 No one likes calling a call center – endless hold times and explaining who you are and what you need multiple times. Introducing Spirit HR. 
Spirit HR
is an HR outsourcing company passionate about personal service.
Hassle-free Service
Spirit HR assigns a dedicated team to each of its client companies. Assigning one payroll specialist, HR specialist, benefits manager, and workers' comp coordinator allows us to personally help our clients. Beyond that, weekly meetings ensure the entire team knows the scoop on each client company in case a call reaches one of them. No call center. No confusing phone tree.
Change is difficult, especially ones that affect your staff. When selecting Spirit HR as your HR partner, a smooth and non-disruptive transition for your staff is our top priority.
We want your employees to reap the benefits of working with a PEO; Fortune 500 type benefits, 24/7 employee self-service, and mobile technology to name a few.
Our implementation, employee onboarding, and benefit enrollment processes ensure a hassle-free transition. Our goal is to take things off your plate, not add to it. With each step, we ask, "how can we simplify and make this better for our client?"
Case Study
Each business has its own unique set of needs. One of our newer client companies located in Tampa, Florida is made up of several smaller entities. Numerous locations, multiple FEINs, and different payroll cycles are just a few of the challenges this business faces.
Partnering with Spirit HR has allowed them to standardize their internal processes and offerings across the board. They can now offer consistent benefit plans, enjoy online onboarding and record keeping, and provide employees HRIS access through employee self-service. The managers who cross between entities can easily access all employee information in one place.
We love feedback like this letter from our new client. Knowing we achieved our goal of excellent customer service keeps us striving for more!
Latest Blogs from Spirit HR
Health and safety are two terms that can seem tedious concerning the workplace, but ignoring them and the standards they entail could result in injury, illness or even death. Prevention and preparation are integral to a safe, happy and compliant organization. Here are...