5 Simple Tips to Stay Cyber Secure at Work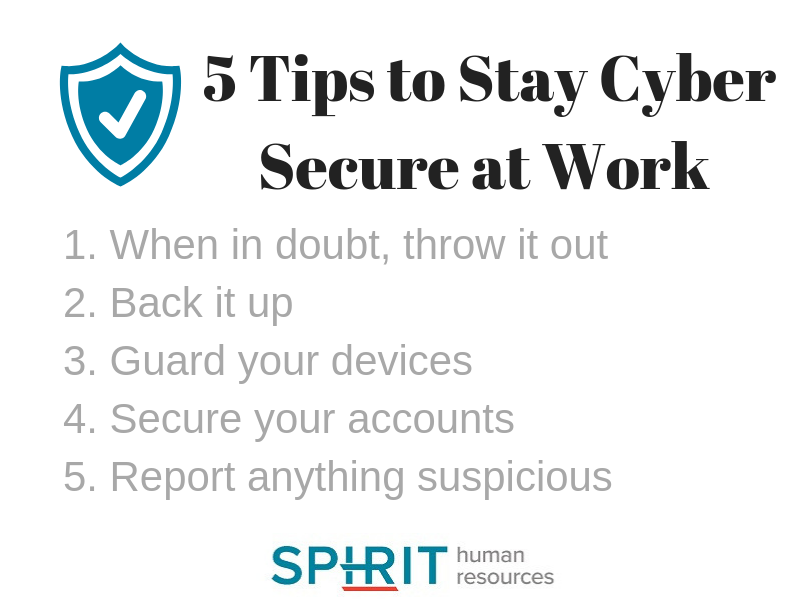 Cybercriminals are not known to discriminate; they target vulnerable computers regardless of whether they are a home user, small business or connected to a large corporation.  These criminals often rely on human error to gain access to computer systems. Something as simple as a failure to install software patches or clicking on a link in an email can have devastating results.  Cybersecurity is a shared responsibility in which we all have a role. Below are five cybersecurity tips from the Department of Homeland Security (DHS) on how to stay Cyber Secure at Work.
When in Doubt, Throw It Out.
Stop and think before you open attachments or click links in emails. Links in email, instant message, and online posts are often the way cybercriminals compromise your computer. If it looks suspicious, it's best to delete it.
Back It Up.
Make electronic and physical back-ups or copies of all your important work. Data can be lost in many ways including computer malfunctions, malware, theft, viruses, and accidental deletion.
Guard Your Devices.
To prevent theft and unauthorized access, never leave your laptop or mobile device unattended in a public place and lock your devices when they are not in use.
Secure Your Accounts.
Use passwords that are at least eight characters long and a mix of letters, numbers, and characters. Do not share any of your usernames or passwords with anyone. When available, turn on stronger authentication for an added layer of security, beyond the password.
Report Anything Suspicious.
If you experience any unusual problems with your computer or device, report it to your Supervisor or the IT Department.
October is National Cyber Security Month. DHS and the National Cyber Security Alliance have partnered with government agencies, non-profits and individuals across the nation to ensure every American has the resources they need to stay safer and more secure online.
To stay connected during National Cyber Security Month, be sure to follow @StopThinkConnect and @StaySafeOnline on Twitter and follow these hashtags #CyberAware #BeCyberSmart #CyberMonth2018.  You can also check out the links below for additional resources and free training materials on cybersecurity.
Latest Blogs from Spirit HR
According to Forbes, 32.6 million Americans will be working remotely by 2025. In addition to enjoying significantly lower overhead, employers are now in a prime position to widen their talent pool and leverage a more robust, productive and collaborative workforce by...