The PEO Industry is Growing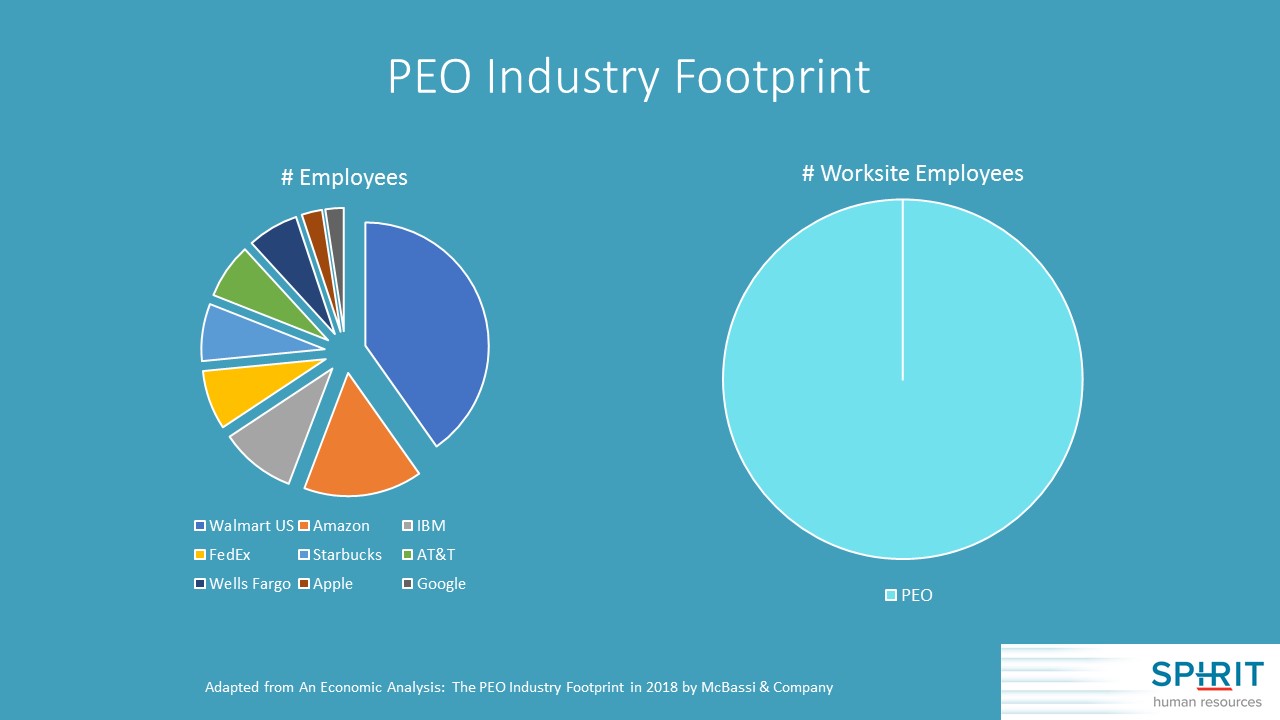 The Professional Employer Organization (PEO) industry is legit.  A
recent study
by McBassi & Company shows that the PEO industry provides comprehensive HR solutions to over 175,000 businesses and 3.7 million worksite employees.
To put this in perspective, the total employment represented by the PEO industry is roughly the same as the combined number of employees for Walmart (US only), Amazon, IBM, FedEx, Starbucks, AT&T, Apple, and Google.
Why should you care?  If you are a small to medium-sized business and you are not using a PEO, you are missing the efficiencies of outsourcing.  PEOs provide payroll, employee benefits, HR, workers' compensation and risk management services to businesses across the country.
Previous research shows that businesses that use a PEO enjoy a better chance of survival, higher growth rates, lower employee turnover, and higher employee satisfaction.
Annual median revenue growth for PEO users was twice that of comparable non-PEO firms;
Expected annual median revenue growth for PEO clients is 40 percent greater than that of comparable non-PEO firms;
PEO client firms were 16 percent more likely t report an increase in profitability.
Focus on Your Core Business
Business owners have a multitude of responsibilities.  Managing payroll, HR, employee benefits, and workers' compensation distracts from developing strategy, profitability and corporate culture.  Outsourcing HR functions to PEO professionals makes good business sense.
Imagine consolidating all your HR services with one provider instead of managing many vendor contracts such as a payroll service, a benefits broker, a workers' compensation broker, a retirement plan advisor, and employment law attorney.  This frees you up to focus on what's important for your business.
Enhance Employee Engagement
You can become the hero for making employee benefits available to your employees.  You can manage your workforce more effectively with access to state-of-the-art technology.  And, it provides employees access to their personal employee information, 24/7.
The PEO industry is growing.  The compounded annual growth rate of the PEO industry is roughly 14 times higher than the compounded annual growth rate of employment in the economy overall during the same period.
This means more and more businesses are discovering the benefits of outsourcing to a PEO.  If you are not using a PEO, it is worth considering.
Latest Blogs from Spirit HR
According to Forbes, 32.6 million Americans will be working remotely by 2025. In addition to enjoying significantly lower overhead, employers are now in a prime position to widen their talent pool and leverage a more robust, productive and collaborative workforce by...